Welcome to Sacred Texts of Hinduism
Read all Sacred Texts of Hinduism in one place WITHOUT any clutter or AD or any distractions online anytime anywhere on any device FREE. Read the single BOOK in single PAGE in single CLICK with details hiding inside. If are happy to go in details, the links are next to it, you can go immediately. Our motto is to aggregate all texts of Hinduism in a single hosting site! We, at Wara KarmaYoga, are trying to assemble all the Sacred Texts of Hinduism in one place for easy read. Our aim is to make it easy to grasp for ordinary individuals, so that anyone with a little interest in the literature of Hinduism can start with least possible confusions. Since Hinduism has vast literature, which make the beginners' life very difficult to start. We know, if we can help you cross the initial hurdle, you will become a scholar one day and will find happiness in this vast literature. Good wishes to you in your endeavour!
---
Where to Start?
If you are new to Hindu Philosophy and do not know where to start, then here is our suggestions.

Follow these steps:
Read this article and start from the basics of Hindu literature.
Understand the Classifications of Sacred Texts of Hinduism, i.e. Shruti (Vedas / Upanishads) and Smriti (Vedangas, Itihasas, Puranas, Shastra, Darshanas, Agamas, Kavya/ Upaveda/ etc).
Understand the concept of Purushartha - the object of human pursuit
Understand the ultimate goal of human being - the concept of Moksha (enlightenment, liberation).
Understand the Yoga or Path to achieve Moksha - you have 3 paths: JyanYoga, BhaktiYoga, KarmaYoga. Sometime you will heard another, i.e. RajaYoga (JyanYoga + KarmaYoga). Everyone will have mix of these Yogas.
If you like stories, you can read Ramayana, Mahabharata and Puranas.
Now get basics of 6 Philosophical School of Hinduism. Choose one you like. If you have nothing, Choose Vedanta (Advaita) philosophy.
Now read the commentaries of the Sutra of that philosophy. In case of Vedanta, it is Brahma Sutra.
Now read sacred texts related only to your chosen philosophy. Don't mix with other philosophies, if you do, you will be totally confused. Because each philosophy has different meaning of Moksha and Paths to achieve that.
After getting some clues on your chosen philosophy, start reading 13 main Upanishads.
You may not understand in first reading, so don't worry, you will get it after some time.
Now, go in detail on anything in Hinduism which interest you.
---
Basics of Hinduism
Hinduism has developed in a world where there has always been intense, creative religious inquiry, which necessarily gives rise to a number of different myths and rituals. Hindus of any faction grew up in close interaction with Hindus of many other beliefs and practices. Hindus have also had from the time of the Rig Veda a conviction that there are always many answers to any question. So, Hinduism has a treasure trove of multiple sacred texts. Hindu texts are manuscripts and voluminous historical literature related to any of the diverse traditions within Hinduism. .

Some basic info:
Hinduism does not have a single sacred book like 'Quran' or 'Bible'.
But for your easy understand, you can assume that the Vedas and Srimad Bhagavat Gita are the most respected texts in Hinduism.
There is no Prophet like Jesus or Mohammed. Hinduism does not have any founder. It was developed over the time with the contributions of multiple Rishis and systematic studies started before 4000 BCE.
Hinduism does not have multiple God, it believes in Single God or even does not have a God! It will be clear to you when you start studying 6 schools of Indian philosophy.
You can find lots of Idol worships, but that is not God, it is media to reach God.
Although there are some caste discrimination, but it is not like you think! It is not that important in your understanding of Hinduism.
Hinduism embraces many religious ideas. For this reason, it's sometimes referred to as a "way of life" or a "family of religions," as opposed to a single, organized religion.
Hindus believe in the doctrines of samsara (the continuous cycle of life, death, and reincarnation) and karma (the universal law of cause and effect)
One of the key thoughts of Hinduism is "atman," or the belief in soul. This philosophy holds that living creatures have a soul, and they're all part of the supreme soul. The goal is to achieve "moksha," or salvation, which ends the cycle of rebirths to become part of the absolute soul.
Hinduism is closely related to other Indian religions, including Buddhism, Sikhism and Jainism.
---
Historic Classifications
There are two historic classifications of Hindu texts: (1) Shruti – that which is heard, and (2) Smriti – that which is remembered.

The Shruti refers to the body of most authoritative, ancient religious texts, believed to be eternal knowledge authored neither by human nor divine agent but transmitted by sages (rishis). The Smriti texts are a specific body of Hindu texts attributed to an author, as a derivative work they are considered less authoritative than Shruti in Hinduism.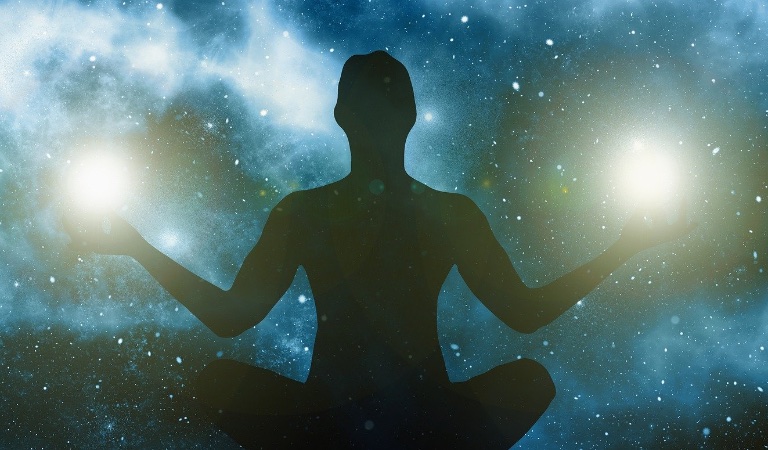 Shruti
Shruti or Shruthi in Sanskrit means "that which is heard" and refers to the body of most authoritative, ancient religious texts comprising the central canon of Hinduism. It includes the 4 Vedas including its four types of embedded texts— (1) the Samhitas, (2) the Brahmanas, (3) the Aranyakas and (4) the early Upanishads. Shruti have been variously described as a revelation through anubhava (direct experience), or of primordial origins realized by ancient Rishis. In Hindu tradition, they have been referred to as apauruṣeya (not created by humans). All 6 orthodox schools of Hinduism accept the authority of Shruti.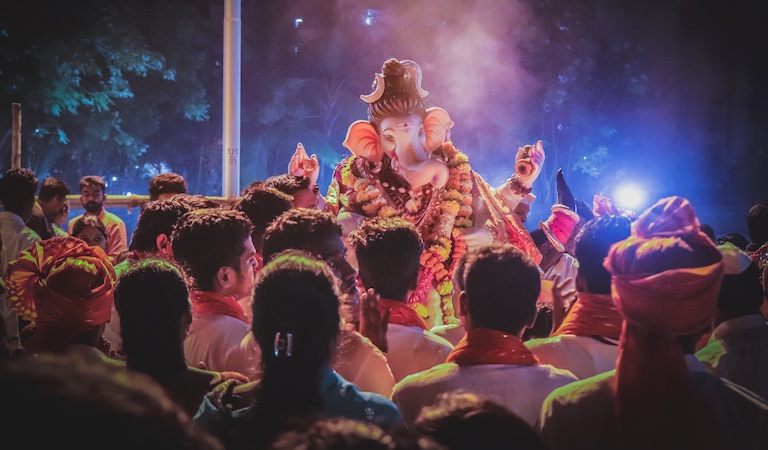 Smriti
Smriti, (Sanskrit- "Recollection") is the class of Hindu sacred literature based on human memory, as distinct from the Vedas. Smriti literature elaborates, interprets, and codifies Vedic thought but, being derivative, is considered less authoritative than the Vedic Shruti. Most modern Hindus, however, have a greater familiarity with Smriti scriptures. The Smrti literature is a corpus of diverse varied texts. This corpus includes, but is not limited to (1) the Vedāngas, (2) Itihasas (3) Puranas, (4) Purusharta Shastras, (5) Darshan Sutras, (6) Agamas/ Tanras and (7) UpaVeda/ Kavya/ Nibandh.
---
Vedas
The Vedas ("knowledge") are a large body of religious texts originating in ancient India. Composed in Vedic Sanskrit, the texts constitute the oldest layer of Sanskrit literature and the oldest scriptures of Hinduism. These are part of Shruti Literature. The Vedas have been orally transmitted since the time immemorial with the help of elaborate mnemonic techniques.
Each Veda has 4 subdivisions. The first 2 parts, the Samhitas and the Brahmans deals primarily with mantra and rituals; and are called the Karma kanda, meant for appeasing the gods for one's necessities and desires, and for helping purify the mind. The last 2 parts, the Aranyakas and the Upanishads and are called the Jnana kanda, meaning they contain knowledge meant for introspection and contemplation.
Samhitas (1 of 4 Parts)
Samhita literally means "put together, joined, union", a "collection", and "a methodically, rule-based combination of text or verses". Samhita also refers to the most ancient layer of text in the Vedas, consisting of mantras, hymns, prayers, litanies and benedictions. Parts of Vedic Samhitas constitute the oldest living part of Hindu tradition.
Brahmanas (2 of 4 Parts)
The Brahmanas are Vedic śruti works attached to the Samhitas (hymns and mantras) of the Rig, Sama, Yajur, and Atharva Vedas. They are a secondary layer or classification of Sanskrit texts embedded within each Veda, often explain and instruct Brahmins on the performance of Vedic rituals (in which the related Samhitas are recited).
Aranyakas (3 of 4 Parts)
The Aranyakas constitutes the philosophy behind ritual sacrifice of the ancient Hindu sacred texts, the Vedas. They typically represent the later sections of Vedas, and are one of many layers of the Vedic texts. Aranyakas describe and discuss rituals from various perspectives, but some include philosophical speculations.
Upanishads (4 of 4 Parts)
The Upanishads deal with meditation, philosophy, and ontological knowledge. Among the most important literature in the history of Indian religions and culture, the Upanishads played an important role in the development of spiritual ideas in ancient India, marking a transition from Vedic ritualism to new ideas and institutions. Their central ideas are at the spiritual core of Hinduism.
To read the full digital books visit the following links.


---
---
---
---
---
Mukhya Upanishads
According to the Muktikopanishad, there are 108 Upanishads. Although only 13 Upanishads are of great importance or Mukhya Upanishads. The adjective mukhya means "principal", "chief", or "primary". The Mukhya Upanishads are accepted as śruti by all Hindus, or the most important scriptures of Hinduism.

13 of those are called Mukhya Upanishads.
To read the full digital books visit the following links.


---
---
---
---
---
---
Vedangas
The Vedangas are the last treatises of the Vedic Literature. There are 6 Vedangas. These are part of Smriti Literature. The oldest record of their names occurs in the Mundaka Upanishad (1.1.5) where they are named as- (1) Shiksha or phonetics or pronunciation, (2) Kalpa or ritual, (3) Vyakarana or grammar, (4) Nirukta or etymology, (5) Chandas or meter and (6) Jyotisha or astronomy.
To read the full digital books visit the following links.


---
---
---
---
---
---
---
Itihasas
The ancient Sanskrit epics the Ramayana and Mahabharata comprise together the Itihāsa ("Writer has himself witnessed the story") or Mahākāvya ("Great Compositions"), a canon of Hindu scripture. Teachings are embedded in the form of itihasic stories so that they remain relevant for all eras, as opposed to history which is time-specific . The Mahabharata includes the story of the Kurukshetra War and also preserves the traditions of the Lunar dynasty in the form of embedded tales. The Puranas narrate the universal history as perceived by the Hindus – cosmogony, myth, legend and history. The Mahābhārata contains within it probably the single most influential text in Hinduism, the Bhagavadgita.
Ramayana (1 of 2 Itihasas)
Ramayana is one of the two major Sanskrit epics of ancient India, the other being the Mahābhārata. Along with the Mahābhārata, it forms the Hindu Itihasa. The epic, traditionally ascribed to the Maharishi Valmiki, narrates the life of Rama, prince of the legendary kingdom of Kosala. The story follows his fourteen-year exile to the forest urged by his father King Dasharatha, on the request of Rama's stepmother Kaikeyi; his travels across forests in India with his wife Sita and brother Lakshmana, the kidnapping of Sita by Ravana --the evil king of Lanka, that resulted in war (against evil); and Rama's eventual return to Ayodhya to be crowned king amidst jubilation and celebration. This is the culmination point of the epic. It is considered a sacred book, and is read by millions of people every year.
Learn More...
Mahabharata (2 of 2 Itihasas)
The Mahābhārata is one of the two major Sanskrit epics of ancient India, the other being the Rāmāyaṇa. It narrates the struggle between two groups of cousins in the Kurukshetra War and the fates of the Kaurava and the Pāṇḍava princes and their successors. It also contains philosophical and devotional material, such as a discussion of the four "goals of life" or puruṣārtha. Among the principal works and stories in the Mahābhārata are the Bhagavad Gita, the story of Damayanti, story of Savitri and Satyavan, story of Kacha and Devyani, the story of Ṛṣyasringa and an abbreviated version of the Rāmāyaṇa, often considered as works in their own right. Traditionally, the authorship of the Mahābhārata is attributed to Vyāsa.
Learn More...
To read the full digital books visit the following links.


---
---
---
Puranas
The Puranas are post-Vedic texts which typically contain a complete narrative of the history of the Universe from creation to destruction, genealogies of the kings, heroes and demigods, and descriptions of Hindu cosmology and geography. There are 18 canonical Puranas (Mukhya Purana), divided into three categories, each named after a deity: Brahma, Vishnu and Shiva. There are also many other works termed Purana, known as 'Upapuranas.'
To read the full digital books visit the following links.


---
---
---
Shastras
Puruṣārtha literally means an "object of human pursuit". It is a key concept in Hinduism, and refers to the four proper goals or aims of a human life.

The four puruṣārthas are Dharma (righteousness, moral values), Artha (prosperity, economic values), Kama (pleasure, love, psychological values) and Moksha (liberation, spiritual values). All four Purusarthas are important, but in cases of conflict, Dharma is considered more important than Artha or Kama in Hindu philosophy. Moksha is considered the ultimate ideal of human life.

Each of these four canonical puruṣārthas was subjected to a process of study and extensive literary development in Indian history. This produced numerous treatises, with a diversity of views, in each category.
To read the full digital books visit the following links.


---
---
---
---
---
Dharshanas
A traditional classification divides Indian philosophy into orthodox (āstika) and heterodox (nāstika) schools of philosophy, depending on whether it believes the Vedas as a valid source of knowledge. There are 5 major heterodox (nastika) schools— Jain, Buddhist, Ajivika, Ajñana, and Charvaka which denies the Vedas as valid source of knowledge.

There are six major schools of orthodox (astika) Indian Hindu philosophy (shad-darśana) — Nyaya, Vaisheshika, Samkhya, Yoga, Mīmāṃsā and Vedanta which believe the Vedas as ultimate valid source of knowledge.

Ancient and medieval Hindu texts identify six pramāṇas (Epistemology) as correct means of accurate knowledge and truths- one Pratyakṣa (Direct perception) and five Apratyakṣa (Indirect perception), i.e. (1) Anumāṇa - Inference or indirect perception, (2) Upamāṇa - Comparison and analogy, (3) Arthāpatti - Postulation, derivation from circumstances, (4) Anupalabdi - Non-perception, absence of proof, (5) Shabda - Word, testimony of past or present reliable experts. The focus of pramāṇa is how correct knowledge can be acquired, how one knows, how one doesn't, and to what extent knowledge pertinent about someone or something can be acquired.
---
Agamas / Tantras
The Agamas are a collection of scriptures of Hindu devotional schools. The term literally means tradition or "that which has come down", and the Agama texts describe cosmology, epistemology, philosophical doctrines, precepts on meditation a nd practices, four kinds of yoga, mantras, temple construction, deity worship and ways to attain sixfold desires. The origin and chronology of Agamas is unclear.

The 3 main branches of Agama texts are Shaiva, Vaishnava, and Shakta. The Agamic traditions are sometimes called Tantrism, although the term "Tantra" is usually used specifically to refer to Shakta Agamas.
To read the full digital books visit the following links.


---
---
---
---
---
Upaveda/ Kavya
These are rest of the Smriti Literature which does not fit in above mentioned categories.
Upaveda (1 of 2 Upaveda/ Kavya)
The term upaveda ("applied knowledge") is used in traditional literature to designate the subjects of certain technical works. Lists of what subjects are included in this class differ among sources. As per the Caraṇavyuha, they are:- Ayurveda (Medicine), Dhanurveda (Archery), Gāndharvaveda (Music and sacred dance), Arthaśāstra (Economics).
Learn More...
Kavya (2 of 2 Upaveda/ Kavya)
Kāvya refers to the Sanskrit literary style used by Indian court poets flourishing between c.200 BCE to 1200 CE. This literary style, which includes both poetry and prose, is characterised by abundant usage of figures of speech, metaphors, similes, and hyperbole to create its emotional effects. The result is a short lyrical work, court epic, narrative or dramatic work. "Kavya" can refer to the style or the completed body of literature. Aśvaghoṣa (c. 80–150 CE), a philosopher and poet considered the father of Sanskrit drama, is attributed with first using the word.
Learn More...
---
Contact Us
To know more about our services, please contact us.
Your message has been sent. Thank you!